The 2017 U.S. Open – Big Boy Golf
Posted by:
mike June 20th, 2017
by Ted Johnson, Golf Insiders Contributor
For three days, it was the No Fear Open, sponsored by the USGA. On Saturday, the traditionally clichéd "moving day" so popular in golf writers' third-round reports of the U.S. Open, 32 "moved" below par – a record for a tournament born and bred to bring Tour pros to slamming clubs and X-rated exclamations.
But Erin Hills proved to be a different animal completely. No course had two (!) 600-yard par-5s, much less two on the same nine, and both player near or just under par for the weekend. The course was capable of being stretched to more than 7,700 yards, and yet it was hardly a snarling beast. A closer look beyond the yardage revealed the slope rating was 145, a testament to the very generous fairways that allowed golfers to steer around menacing bunkers.
Six of the top 10 players missed the cut, including the glamour threesome of Rory McIlroy, Jason Day and Dustin Johnson. Even on fairways nearly 60 yards wide their errant drives into waist-high fescue proved their undoing. Jordan Spieth's ball striking appeared spot-on, but his putting proved faulty. In the end, Brooks Koepka came away with the title, deservedly so. He hit 62 of 72 greens in regulation, the key stat that tends to brand the U.S. Open champion.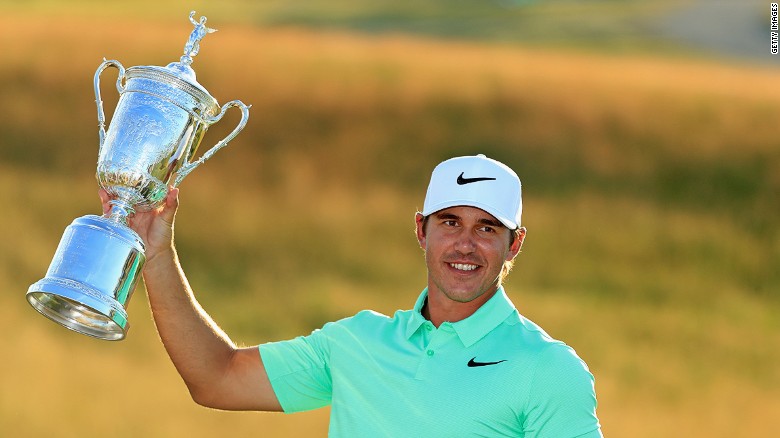 In that mind, here are some thoughts of what we learned about this championship:
Big Boy Golf
Erin Hills, like Chambers Bay in 2015, is a public-available course built to appeal to the USGA for major events. Chambers Bay was excoriated for its bumpy greens and expansive routing (a 10-mile walk), but the drama was there. Who can forget Dustin Johnson on the 72nd hole ripping driver-5-iron to set up an eagle chance on the par-5 18th? Many do because he three-putted to lose the title to Spieth. But the point is clear: The USGA now wants courses that let the big boys take a rip when it counts most.
Next year's championship is at Shinnecock Hills GC in New York state and, unless its final hole has been changed,  it doesn't seem to afford that risk-reward element. The '19 Championship returns to Pebble Beach, and Johnson and Day, et. al, will find the 580-yard par-5 18th offering a second-shot mid-iron approach. Can either produce that last-hole drama that we saw on Saturday when Justin Thomas – at 5-foot-10 and 145 pounds – launched a 3-wood to carry 299 yards for an eagle-3 and an Open record of 63?
Erin Hills presented wide fairways with tight, smooth turf off which pros could choose all kinds of options to hit into the heavily contoured, sloping greens. That's called ball striking. Koepka pounded huge drives and attacked the holes with mid- to short irons. It was set up that way.  But, had the wind on Sunday blown all four days you could have added 10 shots to Koepka's winning score.
The Feel
Credit Wisconsinites for their support. Erin Hills isn't easy for many to walk with their favorite groups, so the grandstands around No. 9 and No. 18 were packed. There were roars to be heard on TV, something that couldn't be said about Chambers Bay because many of the grandstands were perched atop slopes above of the greens.
Golf is different than other sports. No one gets to stand behind Aaron Rodgers when he's under blitz pressure and has to fire a pass downfield. No one is next to Steph Curry at the free throw line when the game is on the line.
A errant drive into the trees on a traditional course like Winged Foot affords nearby fans to stand right there when Joey Tour Spikes hits a hard 5-iron out of the rough – a physical act felt as much as heard and seen, the best testament to the athletic skill of players.
Erin Hills didn't afford much of the stand-nearness of older Opens. But the cheers were there. Furthermore, the course is set on more than 600 acres, so there was plenty of room for parking, corporate and merchandising tents and food stops. That's just more money for the USGA.  But the patrons could take salve in many of nearby off-property taverns that charge all of $4 for a Miller beer.
It's a TV Show
The USGA thinks television first. Naturally so. That's where a large portion of its income is derived. So courses cut out of a hayfield north of Milwaukee might be a bit of hassle for golf fans in that hotels were a long ways away, but the USGA knows that people will remember the high clouds in the backdrop as a golfer was silhouetted against the steep upslope near the green. On TV. That and watching golf balls tracked via radar for launch angle, speed, etc.
Fox Sports, Oh Boy
As for that show, however, Fox Sports still has something to learn. Joe Buck is fine, in my mind, though even he couldn't avoid getting mud on his post-round announcing by mis-identifying Koepka's girlfriend. But I don't think that's Buck's fault. Here are some thoughts on what Fox needs to do to get better at golf.
Rotate your crew more often. Saturday and Sunday's telecasts were eight hours long. That's so much time to fill. Rotating commentators Brad Faxon and Paul Azinger with others would help. It would allow them to step away and see a wider picture. Their comments became repetitive.
On Saturday, when that dramatic 3-wood fell onto the green Faxon said Thompson when he meant Thomas, and though he quickly corrected himself it was the announcing equivalent of missing a 6-inch putt. Earlier he talked about a betting game on his home course called "Mulligan Recall," which but for the most devoted golf nuts (and betters) went right over the heads of most fans.
Some weekend questions from the booth to on-course commentators went unanswered. Curtis Strange, who seems out of place on the course, admitted late in Sunday's round he couldn't track one of Brian Harmon's drives. Also, Strange just doesn't have that optimistic outlook; many of his comments carried a tone of doubt, not hope. The other on-course commentators, Steve Flesch and Judi Inkster, were brought in sporadically, it seemed, so it was hard to follow Rickie Fowler's progress on Sunday.
Finally, the radar devices used to track tee shots on Sunday didn't seem to work on Harmon, a lefty on key drives on the back nine. Sometimes the split-screen sequencing the radar graphics were ahead of the images of the live shot on the left.
All of this, I believe, stems from the booth. Golf is a different beast when it comes to broadcasts. It takes place not in the contained space like a football or a soccer stadium, with a relatively limited number of participants. There are dozens of players in the final round, spread all over the place, all with personal stories and compelling reasons, and it's hard to capture all of it in a cohesive style.
Fox Sports, which counted NASCAR and the NFL as its chief sports, had its trouble because it seems the game sprawls beyond its production crews. Jena Sims, Koepka's girlfriend, got her kiss in, but Fox Sports tried to do the same to this year's championship and came away with its lipstick smudged.