6 Players to Watch: The Open Championship
Posted by:
mike July 19th, 2017
By Gary Van Sickle
GWA President & Golf Insiders Contributor
@GaryVanSickle
Royal Birkdale has a heck of a resume. You can judge a major championship venue by its winners and Birkdale's champions have been impressive.
Try Lee Trevino, Arnold Palmer, Johnny Miller, Tom Watson and Peter Thomson for starters but don't forget Padraig Harrington, Mark O'Meara and Ian Baker-Finch. Plus there's the Nearly Men at Birkdale, those players who almost won the Open. Miller outlasted a 19-year-old named Seve Ballesteros, who tied Jack Nicklaus for second in 1976; 17-year-old Justin Rose, an amateur, holed out from the rough at the 18th hole in 1998 and finished fourth; and Hale Irwin whiffed a two-inch putt to finish one shot behind Watson in 1983.
So will another future Hall of Famer win this week's Open Championship? Not necessarily but here's my Open Sixpack of Players to Watch this week while you're opening a sixpack and watching players at the Open:
Jordan Spieth. It doesn't seem like the Texan has done much lately. After his Grand Slam pursuit in 2015, I guess ordinary wins pale in comparison. Yet he's got two victories this year—at Pebble Beach and Hartford—and a second at Colonial. If iron play and putting is at a premium at Birkdale then Spieth is going to be a contender. If it was up to me, I'd say he should probably be the favorite.
Justin Rose. It would be far too poetic if Rose were to come back and win the Open in his home country at the very course where he burst onto the international stage in 1998 with that memorable finish. That would be straight-outta-Hollywood stuff. Except Birkdale is a course that long hitters can't overpower and often have to lay up, which makes it a second-shot iron players course. That's right up Rose's alley. Remember, he won the U.S. Open at Merion, an even tinier and more claustrophobic major venue than Birkdale.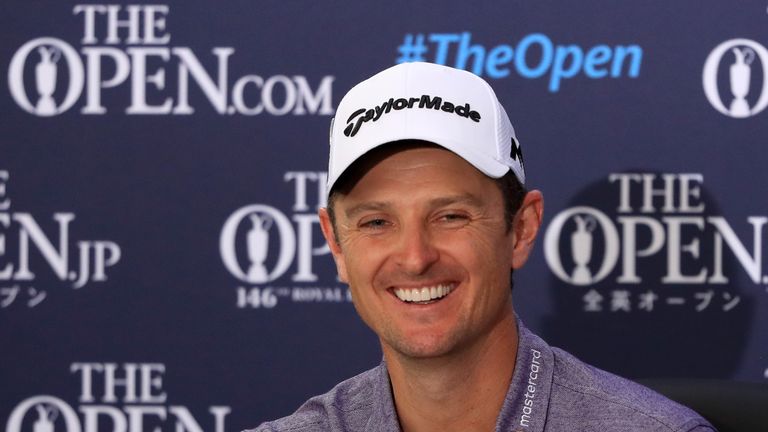 Phil Mickelson. It wouldn't be a major if Mickelson didn't try something clever. He's probably not going to have a driver in the bag this week because his analysis indicates there aren't many holes where hitting driver is a good play. It has been quiet, San Diego-like weather at Birkdale over the weekend in the early practice rounds, perfect for Mickelson, a native San Diegan. But if the weather reports are correct that traditional Open weather is poised to roll in—strong winds, sideways rain, numbing cold—Mickelson may reconsider the big club. Can he still win at 47? It's starting to look doubtful but that doesn't matter. He can make birdies and eagles, he can make big numbers, but he always puts on a good show. 
Tommy Fleetwood. This 26-year-old Englishman grew up in Southport just around the corner from Royal Birkdale and he's receiving a hero's homecoming welcome this week. Fleetwood has been Europe's surprise star of the season, starting with his win in Dubai, where he out-dueled Dustin Johnson. He was runner up in the WGC event in Mexico (losing to Johnson), finished a game fourth at Erin Hills in the U.S. Open and won the French Open a few weeks ago. Fleetwood is up to 14th in the world rankings and more important, arguably has the best hair in golf—long, flowing locks that make him stand out in a crowd of golf conformists.
He looks like he just stepped out of the caddie yard and knows he is already a folk hero. The story of how he used to sneak onto Birkdale to play a few holes as a youth will be retold repeatedly on telecasts this week. If he gets into contention on the weekend, much less wins the Open, his local legacy will be cemented.
Jon Rahm. In his first seven events as a pro, the 22-year-old Spaniard finished third at the Quicken Loans National and runner up in the RBC Canadian Open. Since then, he's won in Phoenix and scored his first European Tour victory in the French Open. The latter was marred by controversy when he improperly marked a ball on the green and was not penalized by officials despite the rules gaffe.
He has already answered the question of whether he's the real deal. He is. His first major title will lift him to superstardom. Rahm is No. 8 in the world rankings and among the top 20 in driving distance and greens in regulation. Will his game translate to links-style golf? I don't see why not.
Sergio Garcia. Your Masters champion took some time off to enjoy his green jacket, which he was seen wearing at Wimbledon. He has posted some solid finishes since, including a 4-under-par effort at the U.S. Open that would normally be a top-ten but with this year's low scores was a tie for 21st. Garcia is worth watching if the weather turns bad because he is a great ball-striker who has a penetrating ball flight when he needs it. And if it's going to be windy, the greens will have to be kept to slower speeds. The Open has always been a place for players with so-so putters who don't fare well on the super-fast slopes of Augusta and Oakmont. And while Garcia's claw-grip stroke has improved, as he showed at the Masters, slower Open greens should be to his liking. Of the four majors, the Open is the one he figured to win. Maybe he can duplicate what O'Meara did at '98—win the Masters and the Open at Birkdale in the same year after having gone major-less until then.
________________________________________________________________________________________________
Gary Van Sickle is a contributor for Golf Insiders and The Morning Read. He has written about golf since 1980, the last 20 years for Sports Illustrated, and for Golf World magazine and The Milwaukee Journal before that.
He played in two U.S. Senior Amateur championships, was once paired with Larry Mize and Tom Purtzer in U.S. Open sectional qualifying, has made seven holes-in-one and is not going to give you strokes. He lives in Pittsburgh.