Arnold Palmer Invitational In Doubt
If History Repeats Itself
Posted by:
mike March 13th, 2017
By JAY GOLDEN
PGA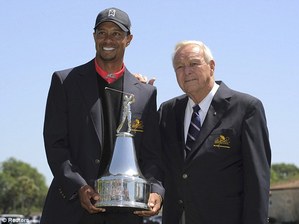 PGA Tour events have featured the names of many renowned celebrities throughout the years. Each acted as host of the event and therefore was one of the reasons for its success.
To name a few:
Bing Crosby National Pro-Am
Dean Martin Tucson Open
Joe Garagiola Tucson Open
Sammy Davis Jr. Hartford Open
Glen Campbell LA Open
Andy Williams San Diego Open
Jackie Gleason Inverrary Classic
Ed McMahon Quad City Open
Byron Nelson Classic
...and last but not least, the Arnold Palmer Invitational.
Presently, the sole name on the later tournament is the late Arnold Palmer. It raises the question, "Why didn't the names of these celebrities last?" and even more so generally of, how long can the show go on?
Corporate sponsorship is often tied with the high profile of the celebrities and athletes. Tour events have the space, if a corporation has the money but with the passing of these stars the appeal of the event can quickly wane.
Take the Byron Nelson, and the Byron Nelson Classic, as an example of a PGA Tour great. There were many top golfers who entered the event in honor of Byron when he was alive, but when he passed, there was less participation of the world's best. They showed to see him. To support and honor one of the game's greats and the charities the event stood for.
That brings the Arnold Palmer Invitational to the forefront.
It remains to be seen if the event will continue to attract the world's best players. If the past repeats itself, the tour may evolve with event into something fresh and new.
As a tribute to Arnie, it has been one of the most competitive events on Tour with an "A-list" of champions. However, this year only nine of the top 25 in the OWGR are set to tee it up.
One can only hope that it will remain a featured event on the PGA Tour.