A New Era in American Golf
Posted by:
mike August 14th, 2017
By Jeff Shain
Golf Insiders contributor
CHARLOTTE, N.C. – Indeed, it was a 24-year-old hotshot that came away with the biggest headlines upon conclusion of the PGA Championship.
We just picked the wrong one to begin the week.
Of course, it would have been amazing if Jordan Spieth had managed to complete the career Grand Slam at Quail Hollow Club. But Justin Thomas capturing his first major championship is a pretty strong alternative.
A very good thing, even.
Now it doesn't fall solely on Spieth to carry the torch for this generation of American young guns. It probably was just a matter of time before Thomas joined that roster of major champions, but this removes any doubt.
"We may not be witnessing Palmer and Nicklaus," Golf Channel's Rich Lerner said Sunday, "but we are in the early stages of a new and exciting era in American golf."
And that doesn't even consider such talents as Hideki Matsuyama, Jon Rahm, Daniel Berger and Thomas Pieters. Or the older twenty-somethings in Rory McIlroy, Jason Day, Rickie Fowler and Brooks Koepka.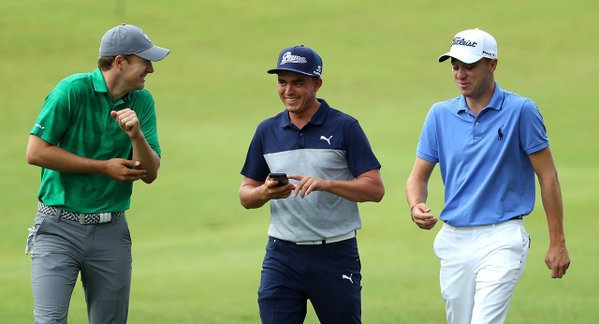 Yeah, the game's in good hands for a while.
Better yet, this collection – particularly the Americans – seems to have the right idea of how to go about it.
Consider the gathering of talent seated on the grass as Thomas came to Quail Hollow's 18th green. Most notably Spieth, whose Slam ambitions never got on track this week.
"So awesome," Spieth told his buddy as they embraced on the path leading toward the scoring annex. They've known each other since they were 14 and were picked to represent the United States at the Evian Junior Masters in France.
Just in front of him was Fowler, who must feel like he's behind the curve after seeing Spieth and now Thomas triumph. A little further to the left was Bud Cauley, another stud whose career is just bouncing back after shoulder woes as a PGA Tour rookie.
"I can't believe Bud Cauley stayed around," Thomas said, noting his former Alabama teammate was just coming off the course as he was heading to the first tee. "He hung around for an entire 18 holes just to stick around, not knowing what could happen."
Recall, too, who was among the first to greet Spieth coming off the final green last month at Royal Birkdale. That would be Thomas.
"We obviously all want to win. We want to beat the other person," Thomas said as night fell over Charlotte. "But if we can't win, we at least want to enjoy it with our friends.
"I think that we'll all be able to enjoy this together, and I know it's going to make them more hungry – just like it did me (with) Jordan at the British."
Anyone who follows golf even casually could see this coming. Though Thomas didn't quite burst out of the rookie gate like Spieth – hey, who does? – he nabbed his first PGA Tour victory 20 months ago at the CIMB Classic in Malaysia.
Then he successfully defended that title last October. And that was only the warmup act for 2017.
Thomas swept the tour's Hawaii fortnight in January, winning the Tournament of Champions before rewriting a slew of records a week later at the Sony Open. He opened with a 59 at Waialae, proceeding to set the tour's 36-, 54- and 72-hole scoring records.
After a spring lull, Thomas re-emerged at Erin Hills to become just the fifth man to post a 63 at a U.S. Open. At 9-under, that also was the Open's lowest round in relation to par.
It put Thomas in the final Sunday group, where he couldn't replicate the magic the following day. He shot a 75, leaving him with a share of ninth.
"I didn't lose that tournament by any means. Brooks won it," Thomas said. "I would have had to play just as well on Sunday as I did on Saturday to shoot 67 or better. It was windy, it was tough, it was the Sunday of a major."
Thomas took the experience and learned from it. And when he went bunker-to-bunker-to-bunker on Sunday's first hole at Quail Hollow – sending his third shot skittering across the green – he didn't panic. He blasted out and drained a 12-foot bogey save.
"Through four shots on that hole, I pretty much couldn't have drawn up a worse start to my Sunday at the PGA Championship," he said.
It got better, obviously. And how.
He rammed home a 36-foot putt for birdie at No.9. His birdie on the next hole hung a full 12 seconds on the lip before dropping in. He chipped in from off the green at No.13.
And to cap it off, he striped a 7-iron at No.17 – the middle of the Green Mile – that touched down and took a nifty left turn before coming to rest 14 ½ feet from the hole. The ensuing birdie was the clincher.
"JT's a deserving champion," said Chris Stroud, who caught a lot of Thomas' heroics watching from the group behind. "He came out hard. Once he won, everybody knew he was going to win a lot."
Perhaps even Player of the Year. Nobody else has four wins this season, though the FedExCup playoffs still loom ahead. Thomas also put his name in the trivia book as the first man to shoot a 59 and win a major in the same season.
Spieth still might have a major say in things, of course. But that's the fun of what's emerging.
"I like the way they compete," said Golf Channel's Frank Nobilo. "It's a bit like boxers where they can still embrace at the end of the fight.
"You should be able to almost hate someone for four hours in a polite way. And then, in the end, respect the fact that their golf was better than yours or vice versa."
It's a bright horizon.
________________________________________________________________________________________________
Jeff Shain is a former Orlando Sentinel golf writer, part of nearly two decades covering the sport that includes other stops at The Miami Herald and The Island Packet in South Carolina. He's also a digital contributor to PGATour.com and Pro Golf Weekly, and co-hosts the Prime Sports Golf podcast at PrimeSportsNetwork.com.