The PGA Championship: Who will survive the Green Mile?
Posted by:
mike August 13th, 2017
By Jeff Shain
Golf Insiders contributor
CHARLOTTE, N.C. – Chris Stroud could only grimace as he walked off Quail Hollow's 18th green Saturday, victimized by a bogey/bogey finish that cost him a share of the PGA Championship lead.
As it turned out, Stroud didn't lose any ground. If anything, he gained a bit.
That's how the Green Mile – Quail Hollow's fearsome finishing trio of holes – can turn things on its head. And look no further than Saturday's final threesome as Exhibit A.
Kevin Kisner played the Mile in 3-over par, taking a watery double bogey at the par-4 16th and narrowly escaping a similar fate for bogey at No.18. And that wasn't even the most adventuresome of the group.
Jason Day didn't make a par on the Green Mile – balancing out a birdie at No.16 with a bogey at the par-3 17th before a bizarre detour near the portable toilets at No.18 led to a final quadruple-bogey 8.
Hideki Matsuyama, the third member, walked away with three pars and counted his blessings.
"It's tough all the way around," he said with a smile.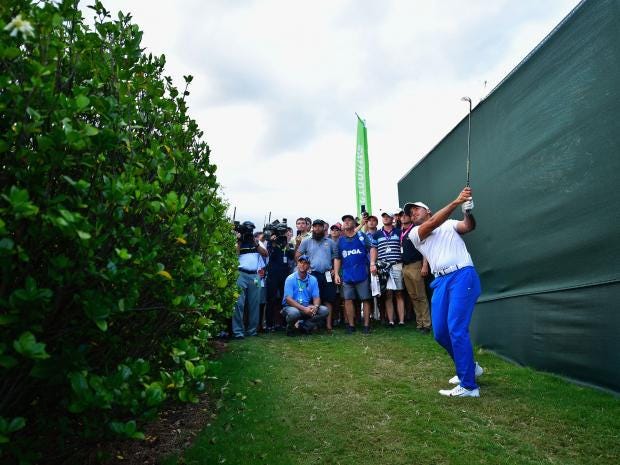 All told, Saturday's final three groups – nine players in all – played the Green Mile in a combined 15-over par. Day and Louis Oosthuizen recorded the only birdies, and both wound up giving that shot back. None played the stretch in better than even par.
"They've got to put a Pennzoil station on 16 tee," Frank Nobilo said on Golf Channel, "because people leak oil on the way in."
Geez, and that was only Saturday. What golf carnage might the Mile have in store with the added pressure of a Major Sunday?
"Obviously 16-17-18 at Quail Hollow are not the most attackable holes in the world," said Kevin Kisner, whose 72 still left him with a one-shot lead over Stroud and Matsuyama heading into Sunday's finale. "So you'd like to have a comfortable lead coming in there.
"But if you've got to make birdies, you're going to have to man up and hit some pretty awesome shots on those three holes to have a chance."
Even before the PGA Championship came to Quail Hollow, the Green Mile had long established a certain fear factor on the PGA Tour.
Since 2003, when Quail Hollow became an annual stop, no closing stretch has been tougher than the Green Mile. And it's not even close.
Quail Hollow's closing trio has played to an average of .916 over par through those 14 years. Though conditions vary from year to year, the Green Mile has never ranked worse than third-toughest in any of those seasons.
No.2 is Muirfield Village, where the Memorial Tournament's closing stretch has played .598 over par during that stretch. Yes, a full third of a shot difference.
"There's no being aggressive," Masters champion Sergio Garcia said early in the week. "If you're aggressive, you're hitting 4- and 5-irons. And if you're not aggressive, you're hitting woods into the greens. It's just a different kind of (finish)."
This week, it's even tougher. Through three rounds, the Green Mile is playing 1.070 shots above par. It has accounted for 19 percent of all bogeys at Quail Hollow this week, 34 percent of all double bogeys and half (12 of 24) of the triples and above.
"The way they set the golf course up this week, it's made you play cautious golf," said Rory McIlroy, who has a 61 and a 62 in his personal Quail Hollow portfolio. "You have to be happy with 25-30 feet."
No.18, where the pin was set in the front left just six paces off the front, was up for particular scrutiny Saturday.
"(No.) 18 is just a ridiculously hard hole today," said Jordan Spieth, who went from a fairway bunker to the creek on the way to double bogey. "A lot of guys were coming in with 6-irons. I had a 5-iron out of the bunker. There's just nowhere to hit it to have a chance for birdie."
Kisner, already with his double bogey at No.16, might have met a similar fate except his approach took a high hop off a footbridge that crosses the creek. He wound up in deep rough behind the creek, but salvaged bogey.
"I had never seen a hole location short of a false front before," Kisner said.
"If I hit it out to the right of it, it would come 10 yards off the green off that false front. So I tried to go right at it and had to smash a 7-iron. I just overhooked it. Hindsight is 20/20, right? That was a stupid play."
But not so inexplicable as Day, who went wide right with his drive and only compounded the matter by going wider right off the pine straw. Whatever opening he thought he saw didn't work, and his ball caromed into some bushes by the portables.
Taking an unplayable, his fourth shot was still short of the green. End result: Snowman.
"It's unfortunate," Kisner said. "He played good coming in and then gave it all away. That's tough."
Asked if he had any consolation for Day, Matsuyama said: "No words of advice. Just go get 'em tomorrow."
Yes, Sunday. The Green Mile, with a major championship on the line.
It'll be darn tough to go out and snatch the Wanamaker Trophy on the Mile. But someone could lose hold of it.
Stay tuned.
________________________________________________________________________________________________
Jeff Shain is a former Orlando Sentinel golf writer, part of nearly two decades covering the sport that includes other stops at The Miami Herald and The Island Packet in South Carolina. He's also a digital contributor to PGATour.com and Pro Golf Weekly, and co-hosts the Prime Sports Golf podcast at PrimeSportsNetwork.com.