The PLAYERS Championship Recap: A Major Change of Philosophy
Posted by:
mike May 16th, 2017
By Gary VanSickle
@GaryVanSickle
Winning a major championship is a big deal, Larry Nelson once told me, but only if you're a player who's supposed to win majors.
If you're not, you can win three of them and get less respect than Rodney Dangerfield, just as Nelson did. He didn't even get proper credit for taking the 1983 U.S. Open at Oakmont, golf's ultimate test, because Tom Watson was "supposed to win" when the storm-delayed event resumed Monday morning for the last few holes. Many observers felt let down when Nelson holed an unlikely 60-foot birdie putt on Oakmont's 16th green and went on to edge Watson.
Funny, the whole weekend at The Players felt the same way, especially when little-known South Korean Si Woo Kim, 21, walked away with the title.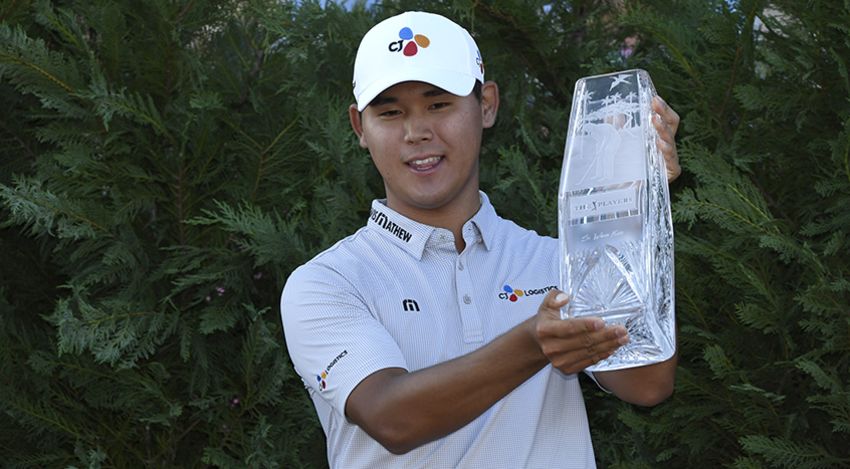 You can't judge a championship by its champion. Kim could turn out to be a Hall of Famer, like Nelson or Watson. He's off to a good start. Or he could turn out to be a one-hit wonder like Players champion Craig Perks. We don't know yet.
Golf Channel's Brandel Chamblee criticized the TPC Sawgrass course for being "superstar-proofed" because it has too many holes that take driver out of the hands of the players, which doesn't allow the best players to separate themselves.
He's not wrong. But it's not just the lack of room for driving that is the problem. It's the course itself, which seems more like a video game than a complete test of golf.
So I'll just go ahead and say it. The Players has a great field. TPC Sawgrass is not a great course. It's iconic, it's memorable, it's spectacular in places and spectacularly difficult. But it's not a great course because the PGA Tour tries too hard to defend par.
I don't mind seeing the world's best players splash shots at the par-3 17th hole because they hit bad shots. J.B. Holmes missed the green with his tee shot in Sunday's final round, then stuck his sand wedge in the turf on his next shot from the drop zone and splashed that one, too. Those were bad shots. But there are far too many shots like the one Jim Furyk hit, balls that landed on the green, appeared to be safely on the green, and then dribbled off the edge and over the wooden planking into the water. You saw it at the new 12th hole (which was an epic fail as a drivable par 4) and at 16 and 18 as well.
Shaving the banks around water hazard is bush league stuff. The Masters does it, too, and it's bush league there. Not leaving a reasonable second cut of grass around the edge of the island green, a cushion to stop balls that aren't moving fast enough to deserve going into the water, is bush league.
You wonder why nobody has defended their title since The Players moved to TPC Sawgrass? It's the nature of the course. It is Pete Dye's over-the-top design, which was intended to push the world's best golfers to the brink. TPC Sawgrass is fair like any other championship setup because it plays the same for everyone. But is it a good idea?
Good shots may not always be rewarded but too often decent shots are penalized and poor shots are often penalized too much. You miss a shot at The Players, it's probably in the water and you're not making a bogey, you're making double or triple or, like Anirban Lahiri, a 10.
It's counterintuitive but the lower the score in a major championship, the better the winner. Who shot 20 under at the PGA? Jason Day. Who shot 18 under at the Masters? Jack Nicklaus, Tiger Woods and Jordan Spieth. At the British Open, Henrik Stenson won last year at 20 under, one better than the previous mark set by Tiger Woods and two better than Nick Faldo's 1990 record. The only U.S. Open champions who finished double-digits under par are Rory McIlroy, -16, and Woods, -12.
The higher the score, the less likely the major winner was to be the best player in the game. Paul Lawrie at Carnoustie and Shaun Micheel at Oak Hill are two examples of champions at courses where conditions were extreme.
The winning score at The Players was a modest 10 under par last weekend. This on a course with three par 5s that were easily reachable by most players in the field (Nos. 2, 11 and 16). The firm and fast greens plus some tricky winds turned the weekend into a scrambling contest, not a thorough examination of every club in the bag.
In golf, it's not always the best player who wins, it's the player who shoots the best score.
Maybe Kim didn't seem like the guy who was supposed to win. But he did, give him all the credit.
Move a few tees back so players have to hit driver more often, soften the greens a touch, grow some grass around the water hazards to provide a little safety net, bring the birdies back next year and make TPC Sawgrass a more complete test.
A major change in course setup just might result in a major champion.
________________________________________________________________________________________________
Gary Van Sickle has written about golf since 1980, the last 20 years for Sports Illustrated, and for Golf World magazine and The Milwaukee Journal before that.
He played in two U.S. Senior Amateur championships, was once paired with Larry Mize and Tom Purtzer in U.S. Open sectional qualifying, has made seven holes-in-one and is not going to give you strokes. He lives in Pittsburgh.