Winless since 2013: Phil Mickelson
Posted by:
mike October 12th, 2017
By Jeff Shain
Golf Insiders contributor
Phil Mickelson still has that flair for the moment. 
Case in point: Saturday's 13th hole at the Safeway Open. Having driven behind a cluster of trees, the Hall of Famer had limited options to mull over – none of which involved getting the ball very airborne.
"I could have gone either way, left or right of the tree that was in front of me," he opined later. "But I felt if I went left of the tree, the ball would be working towards the hole. … I felt like it could get on the green and just have a nice 30-, 40-, 50-foot look at it."
Mickelson did better than that, watching his hard grounder scoot up a slope and stop perhaps 12 feet from the flagstick. Birdie. Pure Phil.
"That was a real bonus," he said.
It kept Mickelson in pursuit of that long-elusive 43rd career victory, though a Sunday 70 left him three shots behind repeat winner Brendan Steele.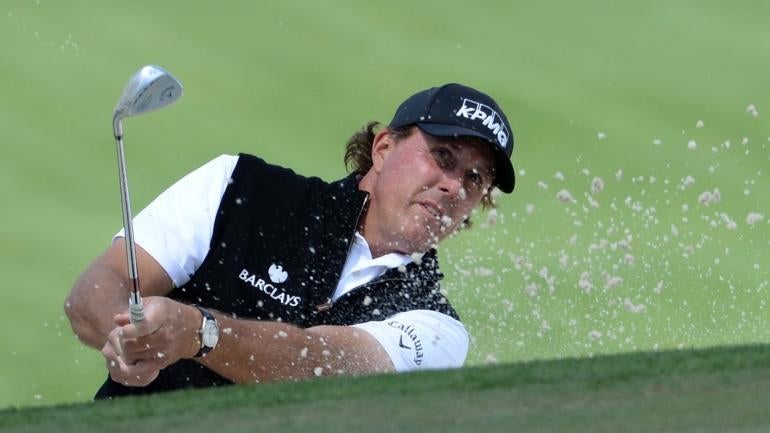 Which raises the murkier question: Can Phil still find enough magic moments to sustain four days and 72 holes? His most recent victory, hard to believe, remains the Open Championship in 2013.
Hey, he's 47 now, and age catches up with even the great ones. Jack Nicklaus and Ben Hogan scored their last PGA Tour wins at age 46. Arnold Palmer, Gary Player, Billy Casper, Greg Norman Ernie Els – their winning days ended earlier than that.
Mickelson assures us there's at least one more left in him. After his form of the past six weeks, it might even be soon.
"I'm going to," he told reporters after Saturday's round at Silverado Resort. "I'm going to win. It's a matter of time. I don't know if it's tomorrow, I don't know if it's in China, but it's going to happen. It's going to happen soon because I'm starting to play well enough to do it."
Once notorious for checking out as the calendar turned to fall, Mickelson's best golf in 2017 has come since departing the summer months.
With doubts surfacing about his value for the Presidents Cup, Mickelson was the only man to break 70 all four days at TPC Boston before the final wild-card picks were due. His tie for sixth at the second FedExCup playoff event was his first top-10 since March.
U.S. captain Steve Stricker gave him the 12th roster spot, and Mickelson was one of four U.S. players to go unbeaten at Liberty National.
He carried the momentum to Napa, where he found himself eight shots back at the midway point before cutting the deficit in half on Saturday. His 23 birdies tied for the week's best, leading to his first top-3 finish since last year's epic Open Championship loss to Henrik Stenson.
"He's very close," said Steele, who plays the occasional practice round with Mickelson and acknowledged he found himself thinking Lefty still had a chance to do "something crazy" over Silverado's final three holes.
"It definitely has that sort of aura to it when a player of his caliber hits that leaderboard," he added.
For now, though, Mickelson's dry spell stands at 51 months – nudging up on 52 by the time he tees it up at the WGC HSBC Champions in China. For perspective, that's longer than his two next-longest droughts combined.
Or to put it in a little different light, consider that Jordan Spieth had just notched his first PGA Tour win a week before Mickelson's triumph at Muirfield. Justin Thomas was just out of college, playing a few sponsor exemptions while setting his sights on Web.com Tour qualifying.
The Miami Heat had just won back-to-back NBA titles. Lance Armstrong had just confessed all those Tour de France titles were tainted. The College Football Playoff was still a year away.
His firstborn was about to enter high school then. Amanda Mickelson is now a freshman at Brown University. Yeah, it's been a while.
Mickelson might not be that week-in, week-out contender good for eight or nine top-10s a year. When he's on, though, his competitive juices haven't faded.
Keep in mind, too, that he's previously won the HSBC crown twice.
"I'm going to keep giving myself good chances and it will happen," he said. "I get on a course like Sheshan where I'm very comfortable, I know the greens, I know the course well. I think I'll have a good week there."
He's trending in the right direction. All it might take is a little extra sprinkle of Mickelson magic.
________________________________________________________________________________________________
Jeff Shain is a former Orlando Sentinel golf writer, part of nearly two decades covering the sport that includes other stops at The Miami Herald and The Island Packet in South Carolina. He's also a digital contributor to PGATour.com and Pro Golf Weekly, and co-hosts the Prime Sports Golf podcast at PrimeSportsNetwork.com.